February 18, 2023— Claretian Missionaries in Ukraine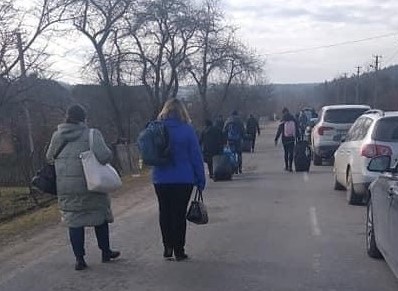 The latest news from the United Nations on the humanitarian crisis in Ukraine demonstrates that the ongoing forced migration of the population is at a desperate level. The country is experiencing constant attacks on civilian targets and critical infrastructure. More than 11 million people in Ukraine are directly impacted.
The Claretian Missionaries who first began their humanitarian mission a year ago in Truskavets, Ukraine continue their tireless and heroic ministry. With the safety of the Polish border distant, the Claretians have often been in harms way near the front lines delivering medical supplies, food, and comfort. All the while, the Claretians have been performing rescue missions, evacuating families to safer parts of the country and beyond. Families are often fleeing with little to no food, clothes, even money. Much of the aid the Claretian Missionaries are able to supply is thanks to your support of SJLCD's migrant and refugee programs.
The plight of the Ukrainian refugees is unimaginable to most of us, having left their devastated homes unwillingly and with nearly nothing. Many have experienced personal injury, suffering and tragedy, forcing them into migration to safety, as they flee their homes and loved ones. The Claretian Missionaries have aided thousands as their challenging journey begins. The families they are helping will need to start their lives from scratch in a place where they may know little of the language and culture. They may struggle to support themselves economically or struggle with isolation and stress.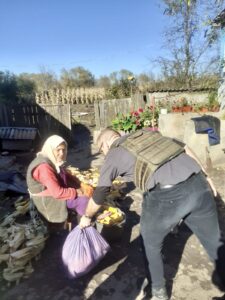 Until the displacement is over and peace is brought to Ukraine, the suffering and forced migration crisis will grow. Likewise, so will the need for SJLCD to support for the Claretians in Ukraine. We're grateful that with your help, in 2022 we were able to provide nearly $20,000 directly to the Claretian Missionary humanitarian efforts in Ukraine. Now that the number of families fleeing for safe haven has increased 5-fold, the need for support is that much greater.
You make it possible for St. Jude League to provide HOPE, desperately needed compassion and humanitarian assistance to refugee families In Ukraine. Your generous monthly, one-time or social media fundraising gifts directly change lives. And 100% of your support directly impacts the work of the Claretian Missionaries in Ukraine.
Donate now or start a your personal fundraising effort to help the Claretians provide refugee families aid and much needed hope in the midst of this crisis.