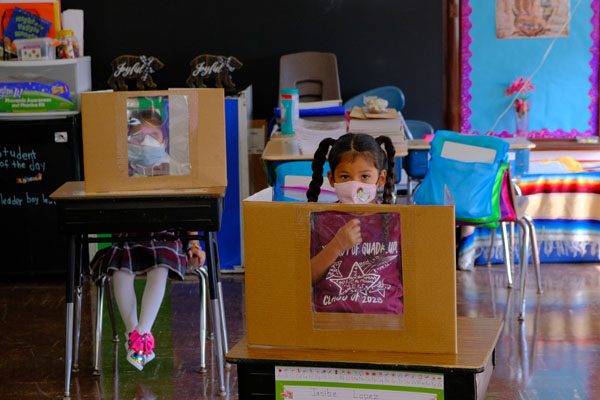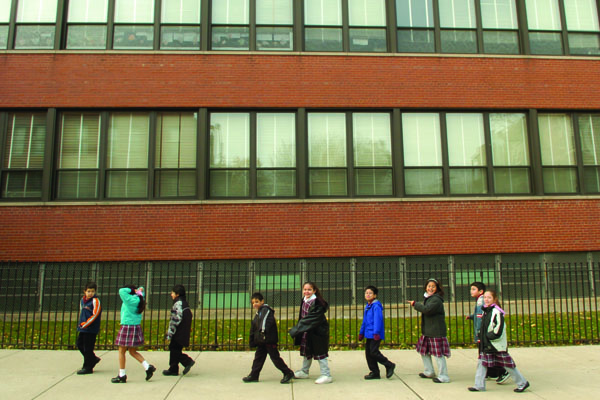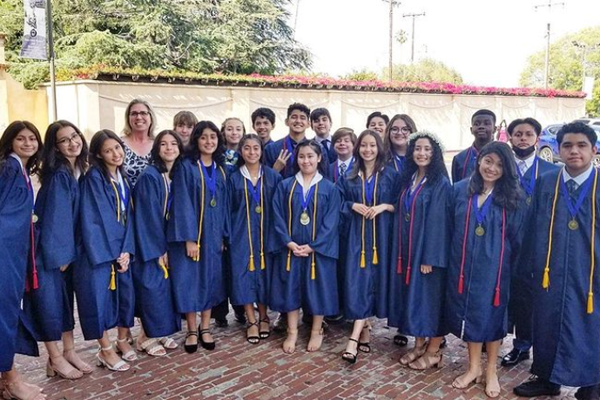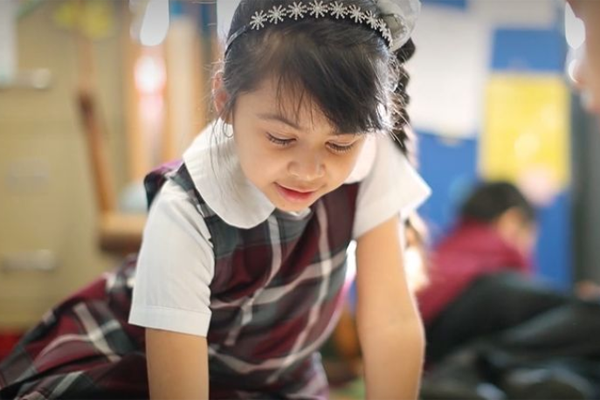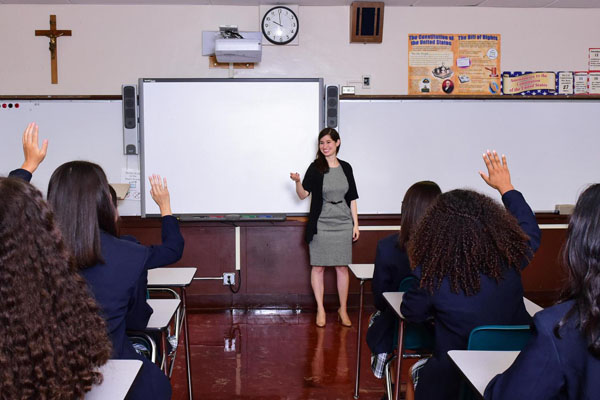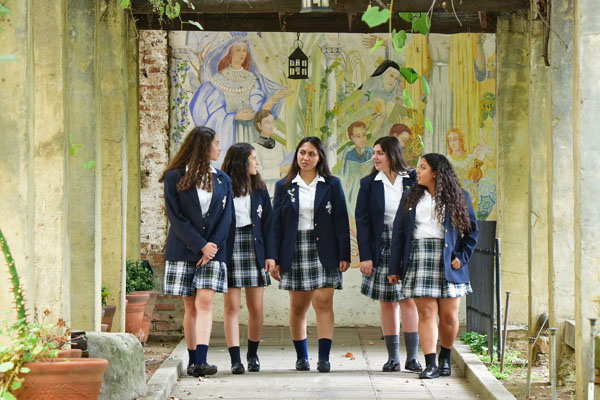 After-School Programs: Music, Sports, and Camp
Sports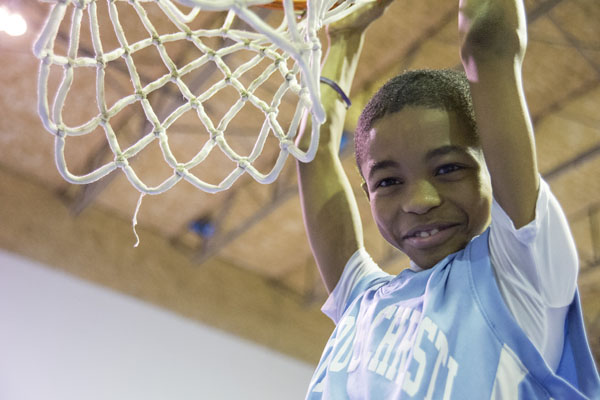 The Corpus Christi Youth Basketball League (CCYBL) teaches its young players about teamwork, setting personal goals, and working towards them. During their 10-game season, the league's coaches help their players learn the value of physical exercise, hard work, sportsmanship, dedication, practice, and respect for themselves and others.
Coaches also serve as mentors and positive role models for the members of their teams while building lasting relationships in a fun and safe setting that serves as a second family to many kids. Seventy-five percent of those involved in the program are not active members of the Corpus Christi parish, making community building especially important.
This group of young players practices ways to positively focus and channel their energy while learning to value each other's contributions and unique talents. The league stresses that all players have something valuable to contribute by making sure that all the athletes on each team play in every game, no matter their skill level or the score.
Volunteers from the program reach out to community families to make sure everyone has the chance to play. This program offers resources beyond what is accessible at the local schools through volunteers who mentor, tutor, arrange transportation, and even help pay fees for families in need of assistance. Scholarships and discounts are available from the CCYBL and Corpus Christi parish to families with three or more children involved in the league or who are active in the parish, which is especially important given the high rates of poverty in the surrounding area.
Sports programs like these help kids develop many qualities – including the ability to follow instructions, filter out distractions, and manage aggression and anxiety levels while working hard toward a goal. Involvement in athletics helps build self-confidence and strong, healthy bodies.
By combining life skills with a fun opportunity to socialize with friends, the CCYBL provides an essential opportunity for the Corpus Christi parish to impact the lives of the community's youth. Your donation to the St. Jude League Community Development will help fund vital programs in our communities, like those at Corpus Christi Parish.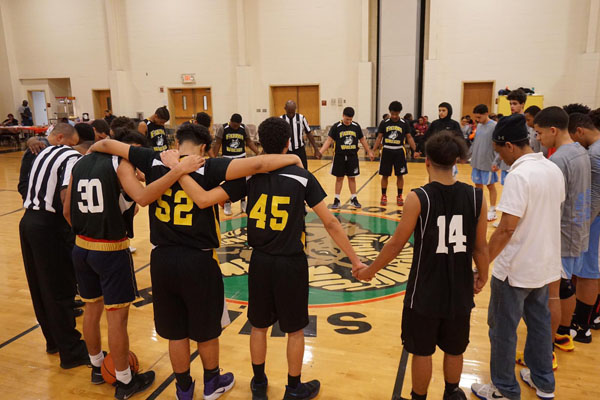 Since 1969, the "Wolves" youth basketball team at Our Lady of Fatima, Perth Amboy, NJ has provided opportunities for young men and women to learn discipline and teamwork and come to understand their own value through the support of the community. The all-volunteer program staff use basketball as a way to get kids involved and help them overcome the challenges they face; the program is based on the belief that if even one life is changed, it's worth it! Their motto is, "You can't change them all, but if you change one, your work is done."
The program serves 30 to 60 young people between the boys and girls teams. Currently there are two teams, a JV Freshmen team for 9th- and 10th-grade, and a Senior team for 11th- and 12th-grade. When funding allows, the program also sponsors a cheerleading squad for middle schoolers.
Many of the youth involved come from immigrant families or minority backgrounds. The basketball program aims to help participants focus on things outside of their everyday struggles or distractions. The kids thrive and are willing to give their all knowing that they are believed in and valued by adults and peers in their community. Supportive programs like this are vital in this community where many students come from disadvantaged backgrounds and face a myriad of challenges at home.
For the Wolves, personal growth and development is as important as winning basketball games. Not only does the team practice four days a week from October to May and play at least one game a week, they also participate in volunteer opportunities together, attend Mass at the parish every week as a team, and are held to high academic standards. If a player fails to meet these expectations, they will sit out during games, even if it means losing a championship.
Another important aspect of the program is the development of leadership. The current head of the program originally became involved as a player in the 1990s, and many other former players have come back to volunteer either with the team or with other initiatives in the community.
Music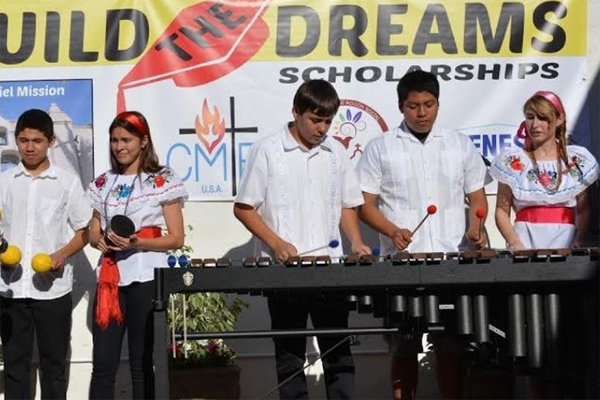 In 2013, Claretians and local community leaders started an after-school Marimba Ensemble at San Gabriel Mission in San Gabriel, California.
The marimba is a xylophone-like percussion instrument consisting of wooden keys that produce sounds when struck with mallets to create rhythms and songs. The instrument is quite large and requires the musicians to work together as a team to play it. Thus, being in this Marimba Ensemble is not just about music education and expression; participating in the group teaches the young players valuable life skills, such as leadership, collaboration, and a sense of purpose. The Marimba Ensemble provides a safe and engaging out-of-school community for these young people to spend their time with.
The San Gabriel Marimba Ensemble plays gigs all around the area, including large cultural celebrations, city and parish events, quinceañeras, private parties, retirements, and birthdays. Playing these events helps the group raise funds to continue and expand the ensemble while also allowing the young musicians to form connections with their larger community, meet new people, and learn about history and different cultures.
Students enrolled in this after-school program have shown improved high school graduation rates and increased enrollment in college programs. An adult leader of the ensemble shared:
"It's a family. They come together, they work together, they teach one another. And they are growing as leaders. It instills confidence in them. They mentor the younger players by being good examples, as well as showing them how to play."
Summer Camp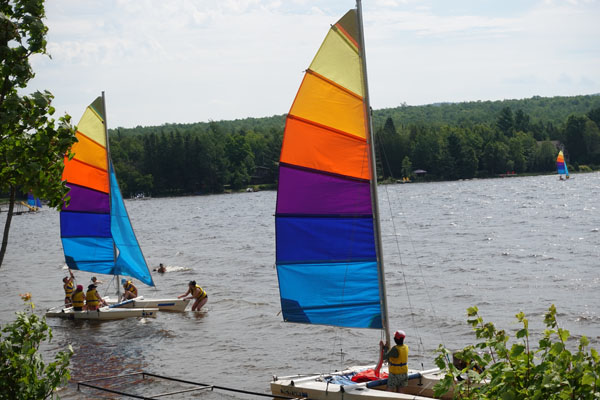 In Québec (Canada), the Claretians own and operate Camp Claret one of the most beautiful summer camps for children and young adults. Every year, through the generosity of local benefactors, many children whose parents cannot afford the cost of the camp, are given financial assistance.
Gabe's Place is a youth and young adult leadership development program based at San Gabriel Mission High School. The program offers summer school and camps to children in grades K-5. Gabe's Place provides a summer curriculum and camp experience with learning in the morning focused on math, language arts, and music exploration with typical summer camp activities in the afternoon, led by San Gabriel Mission High School students.
St. Jude League Community Development is proud to accompany the next generation of community leaders through campus outreach programs in Missouri and California. Our campus ministers invite students to become more active in social service and volunteer programs and provide undergraduate and graduate students with access to counseling, reflection and discussion groups, annual retreats, social events, and community service projects. By supporting today's students, we support tomorrow's leaders.
Missouri
O'Reilly Catholic Student Center, Springfield, MO
Serving: Missouri State University, Drury University and Ozarks Technical Community College
California
St. Paul Catholic Newman Center, Fresno, CA
Serving: Fresno State University, Fresno Pacific University and Fresno City College
Access to and participation in high-quality education is the most effective and empowering way to diminish widespread poverty. Young people that receive a quality education will develop problem-solving skills, have more opportunities for employment, be more likely to secure a higher income, and give back to their community.
Keeping kids in school is also a vital aspect of violence prevention. Spending more time around school-oriented peers in positive supervised environments—like classrooms and after-school programs – fosters an environment where young people can grow into productive thinkers, problem-solvers, and community members.
Education, in this way, is not just a means to an end, but rather an end in itself, as it empowers and expands a young person's choices and opportunities.
Local community leaders like the Claretians are uniquely positioned to collaborate with local schools and parents to ensure that young people have sustained access to the kind of education that will allow them to become successful, informed, and productive community members.