October 13, 2023— Blessed students, blessing others!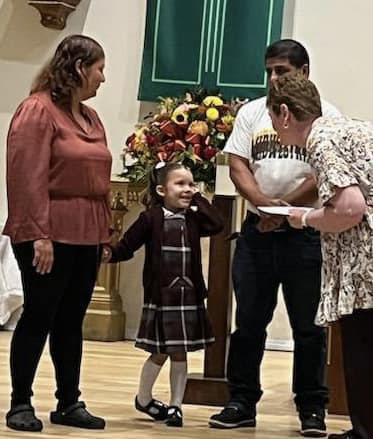 "We see our students as blessings, not just another number," says Bonnie Hall, principal of Our Lady of Guadalupe School.
During a recent visit, the St. Jude League team witnessed first-hand how students at OLG receive remarkable inspiration and support from their student community, their school family.
The modest neighborhood school building is home to 160 students, Pre-K through 8th grade. Having a school population of this size provides the teaching staff the opportunity to pay more attention to students. We learned about several student programs that empower and prepare the youth for the world at an early age.
The school has a Chess Club where middle school students learn not only the rules of the game but also how to apply the techniques they pick up — like making your next move your best move — in real-world situations. These strategies are valuable to realizing goals and dreams – now and later!
OLG also sponsors a Crochet Club that follows the OLG motto "We work hard for others." The club originally launched to create warming caps for children receiving cancer treatment at Lurie Children's Hospital. Beyond the creative process, the service project helped OLG students to understand the impact of simple deeds of kindness. There are unexpected benefits too – the activity sparked conversations leading to improved mental health and bridged generations with grandparents helping to crochet at home.
At the Our Lady of Guadalupe Parish food pantry across the street from the school, the students and staff run Food Drives by bringing the community together to keep the pantry stocked with donations of whatever is needed most. This is also where the school's lunch program warming kitchen is at. Unlike better equipped schools, OLG students have to walk a block outside to get their lunch, even gearing up against the cold in winter. OLG school and their community partner Big Shoulders Fund are currently raising money needed to build a warming kitchen at the school to deliver hot meals and keep the students safer and healthier through the day.
Today we highlight just a few of the many student programs OLG offers to their vibrant student family. It is abundantly clear is that Our Lady of Guadalupe School is doing an incredible job in helping their students believe in themselves and prepare for their very promising futures. Most importantly, the hope created at and inspired by OLG is multiplied across each and every school supported by the St. Jude League. How amazing is the potential for these remarkable students? Be part of their hopeful future!
Thank you in advance for your support! You make all the difference to OLG School as they continue their learning journey to success for the next generation!