Dear Friend of St. Jude,

We're inviting you to learn more about the inspiring work the Claretians are accomplishing through the St. Jude League Community Development ministry. The ministry was inspired by sustaining St. Jude League donors like you who wanted to be able to impact human issues even more directly through key programs with 100% of each donation directly impacting the designated programs.
From humble beginnings five years ago, our Community Development ministry enjoys growing support from monthly, one-time and tribute donors in all gift amounts. We're excited that this September, we received our first ever Leadership Gift, a $50,000 donation in support of our efforts in affordable housing & shelters and our first ever Major Gift of $5,000 in support of our network of food pantries!
In response to the urgent forced-migration humanitarian crisis, a leading Community Development focus is the work of Fr. Carl Quebedeaux, a Claretian who is working tirelessly at the southern border in Texas. Fr. Carl's work at Albergue San Oscar Romero de las Americas shelter (ASOR) has earned accolades of church leadership and has inspired interviews by Reuters, NBC and other media. I invite you to hear directly from Fr. Carl by viewing his interview with the St. Jude League team, below.
"It is important to stress that the refugees in the shelter's care are not pursuing the American dream as we know it," says Fr. Carl Quebedeaux. "ASOR residents have been forced against their will from their homes and loved ones by conflict, violence, kidnappings, abuse, persecution and situations of poverty beyond our comprehension."
The mission of dignity and respect found in the ASOR shelter is distinct and unique from any other in the region. ASOR shelter doesn't charge refugees for nights of stay or for meals. Nor does ASOR shelter exploit refugees in any form of trafficking to earn their keep. ASOR seeks to restore mental, physical and spiritual health to refugees in coordination with local health clinics and on-site visits from UNICEF programs. ASOR collaborates with educational programs to get children and teens back in the classroom and revalidating their studies during their stay. ASOR offers families continuing education programs in health and wellness at the shelter itself. The shelter restores the whole person, rebuilds the whole family. This work is profound and worthy of your attention.
It's quite remarkable that, all told, the Albergue San Oscar Romero shelter provides more than 18,000 nights of shelter and cooks residents more than 36,000 meals a year. This is an incredible feat, especially on a limited budget of for around $120,000. The math is simple – each shelter refugee's life is transformed for less than $7 a day.
Our ask is three-fold:
View the interview with Fr. Carl below to hear directly from him about this Claretian ministry,
Please take the time to review the shelter budget (click here) and consider how you might make a personal impact and
Support Albergue San Oscar Romero de las Americas shelter knowing you will have lasting and profound impact on this Claretian ministry.
Please know how grateful we are for your consideration and support. Fr. Carl speaks humbly of the life-changing accomplishments of the shelter all the while maintaining that Albergue San Oscar Romero de las Americas shelter is the "Fire that lights other fires!" Your generosity and support is the very fire St. Jude's hope delivers the needy time and time again. Thank you in advance for your continued example and support.
Yours in Hope,

Transforming Lives at Albergue San Oscar Romero (expand to learn more)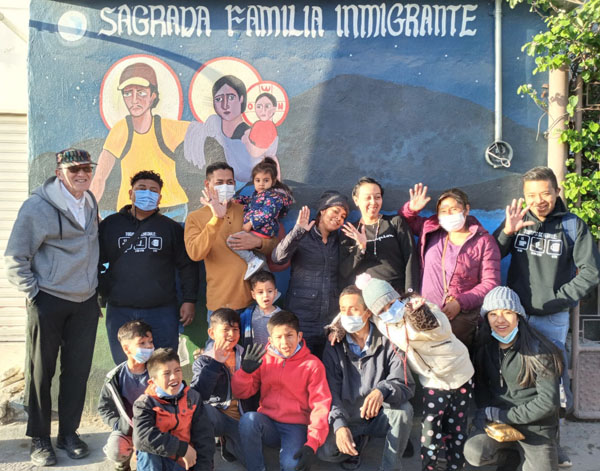 Albergue San Oscar Romero assists refugees of forced migration in Juárez, Mexico, by providing them with shelter, food, clothing, and other basic living needs, as well as legal assistance to help them on their journey.
The situation at the U.S.–Mexico border has devolved into a humanitarian crisis, and one of the largest hot spots is El Paso–Ciudad Juárez; with a combined population of over 2.7 million people, it is the second largest binational metropolitan area on the southern border. Thousands of refugees and migrants seeking asylum in the U.S. have been expelled to Mexico or prevented from entering the states, leaving families stranded at the border.
These families are escaping lives of poverty and violence and face great personal risk should they return home. Exacerbating the dangers these families face, the COVID-19 pandemic ravaged Juárez, and refugees are among the most vulnerable to exposure.
Albergue San Oscar Romero helps refugees stranded in Juárez who are in desperate need of shelter, food, medical attention, legal assistance, counseling, and educational resources for their children. The shelter currently houses some 80 refugees, over half of whom are children. The shelter also assists other stranded migrants in temporary living situations—such as abandoned housing—with mattresses and bedding, clothing, and other basic needs.
The immigrants at Albergue San Oscar Romero are originally from Haiti, Venezuela, Cuba, El Salvador, Honduras, Guatemala, and Mexico. They are honest, hardworking people. Although it is difficult to find jobs in Juárez, the migrants work at factories and as day laborers, sending the majority of their pay to their families in their homelands.
Operated by Fr. Carl Quebedeaux, a Claretian priest, Albergue San Oscar Romero needs financial support to help serve the growing numbers of refugees at the shelter. The shelter's current needs are as follows:
Shelter: Monthly utilities including electricity and water. Past donations enabled the shelter to add a second bathroom, three more rooms, and laundry appliances, but further renovations are needed for the space to accommodate larger numbers of families.
Employees: The shelter currently has two employees running morning and evening operations, and donations will help the shelter support these individuals.
Food: Refugees currently subsist on basic supplies of rice and beans. Donations could help the shelter afford fresh eggs, milk, fruit, and vegetables.
Medical Supplies: After outbreaks of measles and COVID-19, the shelter needs to restock basic medicines and PPE. Also, a few of the children are disabled and need extra neurological care, which the shelter needs funds to provide.
Basic living needs: Blankets, pillows, mattresses, and clothing.
Therapy: Many migrants have been through traumatic experiences including separation from family and loved ones and witnessing violence and murder.
Legal aid: U.S. lawyers for asylum hearings and a social worker to handle refugee cases.
Be part of the future for residents of Albergue San Oscar Romero!